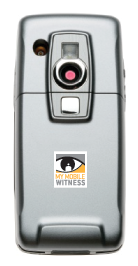 Let everyone know My Mobile Witness® is watching
Let your phone do the talking for you. Slap a sticker on there so that everyone around you knows you actively use My Mobile Witness. Download stickers for free and print it yourself. If that seems like too much of a hassle, just order some. Get 10 stickers free for you and your friends. Adobe Reader is necessary to download and print the stickers.
We are putting the finishing touches on our ability for users to purchase stickers. Check back with us in early November. In the meantime, download as many free stickers as you would like.